With its incredible medieval centre to its modern sanctuary of Magritte Museum, Brussels goes far beyond beer and chocolate to enthrall its visitors whose city image of being home of EU bureaucrats changes permanently. Regarded as one of the premier cities of the continent, Brussels has become a thriving metropolis, with excellent museums and preserved architectural wonders, superb restaurants, and vigorous nightlife along the cobbled streets.
Majority of prime attractions are packed in a small centre being absorbed over some days and bounded by a loop of boulevards called petit ring. The first-time visitors are often astonished by the unrefined but energetic lifestyle of the city center, where old apartments appear to be untidy and shabby but a unique buzz exists in the area making it simply tough to move away.
The city centre is split into two portions namely, Lower Town waving out from the stunning Grand-Place known for its ornate Flemish architecture and Town Hall, and Upper Town on a ridge housing finest art collection of the nation. The Grand-Place is certainly the most charming square of the continent and is deservedly a UNESCO Heritage site.
Getting Around
Run by Société des Transports Intercommunaux Bruxellois (www.stib.be), the public transport network is really good and vast. Bus and tram stops are marked with red and white signs with route number and destination seen in vehicle's front. Bright yellow and blue trams are ideal for reaching the city centre, while the local trains and metros are best for suburbs.
You can buy a JUMP ticket from the STIB site to enjoy one, five, or ten trips valid for an hour, unlimited travel for three days, same-day return trip. The Brussels Card also offers unlimited travel offers and discounts on traveling hours (www.brusselscard.be).
An official metered taxi with a yellow and blue sign on the roof is another good option. You can even hire a car if you are above 23 and show a valid ID card and national driving license held for one-year minimum along with the passport. However, do ensure that third-party liability insurance is included in the hire rates.
Free parking on street is available on holidays and Sundays. Famous providers of car rental, existing even at Bruxelles-Midi railway station and Brussels Airport, include Europcar, Hertz, and Avis. If you love an adventure trip, consider hiring a bicycle from www.provelo.org.
Things to See in Brussels
Several Europe travel attractions captivating your mind and pleasing your heart are in Brussels. People of all ages are likely to enjoy them, provided they spend more than two days in the town for exploring them. It is vital for you to know that most attractions get closed by 6 pm in the evening, with an exception of a few by 5 pm. Therefore, it is vital to visit early and keep the late evening time reserved for a musical nightlife!
Atomium
Bequeathed by Léopold II in 1909, the historic area is now a big exhibition space in the northwest of the centre. Atomium is the most popular landmark, with a colossal model of the oxygen molecule designed as a temporary structure for the 1958 World Fair. Refurbished later, the biggest sphere makes you enjoy a panoramic view of the full region, while the base one houses an Expo 58 exhibition. The centre is the home to several temporary exhibitions.
Mini-Europe
Nestled near the Atomium, this attraction reduces Europe up to a walkable size. It holds realistic miniatures of the Berlin Wall, Westminster Abbey, Eiffel Tower, Vilnius, Bratislava, and Prague.
Grand-Place
This is the most famous attraction with a system of narrow cobbled streets opening into an extensive socio-economic heart of the city. The highlights include an array of filigree gothic edifices ruled by the uneven Hôtel de Ville whose spire holds a gilded statue of St Michael, the Town Hall, and Maison du Roi housing Musée de la Ville de Bruxelles with tapestries, altarpieces, and costumes of the Manneken-Pis (structure showing a pissing boy) in city centre. The area is also full of events and markets for merriment and shopping.
Manneken-Pis
From Grand-Place, Rue de l'Etuve takes one to this free parable of irreverence, a bronze figurine of a urinating boy. Symbolically, Jérôme Duquesnoy established it in the 1660s to refer to the peasant lads who put off fire with their urine.
Musée du Cacao et du Chocolat
This is a small museum in a charming 17th century house in the Grand-Place and honors Belgium's most admirable food products. It shows the history of chocolate right from the old Mayan Empire along with the production processes with audio-visual presentations by the experts of chocolatiers.
Musées Royaux des Beaux-Arts de Belgique and the Musée Magritte
These are perhaps the vital museums in the town and near to Place Royal. The complex houses three valuable museums preserving the exhibits right from those of the 14th century. The Musée d'Art Ancien (Museum of Ancient Art) houses the works of Memling, Bouts, and Rubens, while a passageway to the subterranean Musée d'Art Moderne has stunning Belgian Surrealist art collection encompassing the Rene Magritte's haunting works along with those of Henry Moore, Chagall, and Picasso. The novel Musée Magritte displays chronological exhibits of Magritte's art.
Parc de Bruxelles
This is where you will find the city's most luxurious edifices around a formal historic park with tree-lined avenues and a mid fountain. The main highlights here are the Palais des Académies as the erstwhile residence of the Prince of Orange, statue of Léopold II, Palais Royal of King William I and Léopold II opening in summer with its Throne Room, dining room, and tapestries.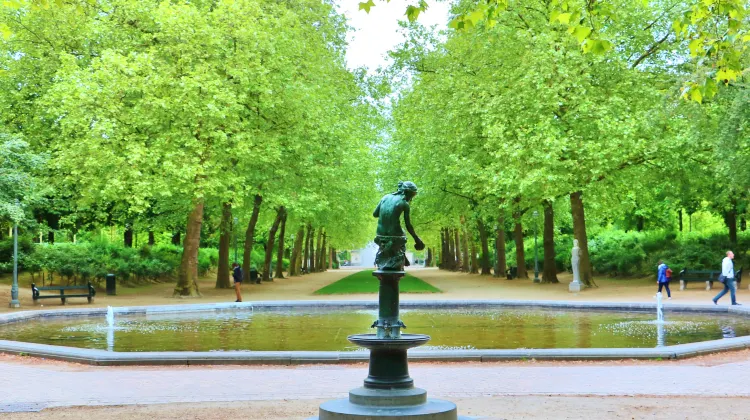 Muséum des Sciences Naturelles (Natural Sciences Museum)
Nestled near the European Parliament, the museum houses one of the world's stunning dinosaur collections. It also features exciting presentations on the Antarctic and Arctic regions along with an exhibition on marine mammals and mineralogy.
Bozar
Nestled at Rue Ravensteinstraat, this edifice of the 20th century features conference and exhibition rooms, concert halls, movie theater, cinema showing quality films, concert hall housing the National Orchestra of the nation, a recital room, a music room, and a gallery of temporary exhibitions.
Things to Do: City Tours
Bike Tours
Most of them meet outside the Grand-Place's tourist information office at 10 am from April to October. Held in English, daily bike tours allow exploring the main sights in only 4 hours. You can even taste fries and beer by shelling out from your own pocket.
Chocolate Tours
These are not worth missing and are conducted from outside the tourist information office throughout the year. However, reservations are mandatory.
Budget Places to Eat in Brussels
Brussels restaurants vary in terms of price range, which makes them split into Expensive (above €80), Fair (€30 to €80), and Economic (until €30). Most of them offer three-course supper and that prices included service tax and VAT. Here are some cool restaurants to test at affordable price range.
Buddhasia
This restaurant serves delicious Thai food and vegetarian meals. It is a reasonably priced choice with soups for €5 and main dishes in the range of 10€ – 20€.
The Shamrock
With a western exterior and deceptive name, this restaurant is truly a treat for those who love diverse Indian recipes. The specialty of this restaurant is that the owner will treat you as his old friend if you go ahead and talk.
Chez Léon
This is another affordable option and is admired for its authentic and liberal servings of moules frites such as chips and mussels. However, it also has other authentic brasserie fare on offer. Situated near Grand-Place, the restaurant offers outdoor seating in summer with paper tablecloths.
La Quincaillerie
This one is a fairly priced restaurant but is amongst the most renowned ones in the Ixelles district. Placed in an erstwhile ironmonger's shop, the interior is still the original one encompassing the wrought-iron staircase of 1903.
Things to Buy in Brussels
Creamy pralines at Wittamer in Place du Grand Sablon
Top-quality Neuhaus at Grand-Place
Belgian biscuits, including macaroons and speculoos as a crunchy gingerbread biscuit at Grand-Place
Designer clothes on avenue Louise
Comic books from La Boutique Tintin
Authentic Brussels lace at F Rubbrecht, Grand-Place
Antiques from Place du Grand Sablon on weekend mornings
Places to Stay in Brussels
Brussels have some of the most luxurious hotels such as Sofitel, Radisson Blu, and Le Chatelain. However, if you are on a budget, you definitely have budget hotels such as Funkey, Thon, and Louise. If you are coming with a big family or group, consider staying in serviced apartments or studios on offer by Sainte Catherine and Citadines Toison.
Europe Tours from Brussels
From Brussels, several famous Europe travel destinations are quickly and comfortably accessible by train. You can make day trips to Amsterdam, Antwerp, Ghent, Paris, Aachen, Lille, Cologne, Bruges, and Luxembourg. Trains are quicker than buses to these places.
Best Time to Visit Brussels
Any time, except for November-January when climate is chilly
You will be amazed to experience all that Brussels has to offer!